Fantastic!  It was the heat of the summer and baker and cake designer Gladys Philyaw and spirit sommelier Don Lott made all things cool!  We explored spirit-infused mini Key Lime, Red Velvet, and Sour Cream Cakes that were infused with the best spirits of Southern Wines and Spirits .  And, we made our own butter – the rated PG kind – and everybody came out smooth.   It might be hot outside, but you'll be cool when you come and experience what the spirits can do for your cuisine. Only at Five Sisters Blues Café. Only on a Monday.  Only with you!
Check out all the photos and fun on our SipSavorTalk on Facebook page and Like us, please.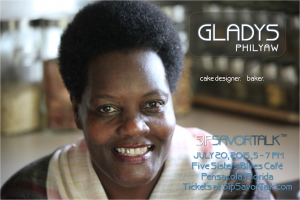 MEET THE GUEST CHEF
Gladys Philyaw began baking at the age of 14, inspired by her grandmother in Nymph, Alabama, and her cousin in Johnsonville, Alabama.  Always hanging at one house or the other, she looked and learned and began to love the art and feel of nurturing ingredients to rise to the occasion.  Today, she designs and bakes case as a favorite hobby, sharing her family-inspired recipes with friends on the Gulf Coast.
Fantastic!  What great friends – and new friends – we have and the great wine and barbecue pairing with Steve Brown of De Luna Winery and Arlene Williams of Arlene Williams Barbecue was most fantastical!!  We're especially thankful to Pat Hudson – comedian and all around great guy – for being the special host.  Be sure to check out the photo (yes, we had a little technical difficulty, so there's only one) on SipSavorTalk on Facebook – and like us, too!
Here's what we enjoyed from De Luna Winery:
Strawberry Kiwi Blast
Pomegranate Pop
Cherry Bomb
Blueberry Explosion
Hurray! We had even more amazing people, extremely great food, and tremendously fabulous beer at the food and beverage tasting with Doc Bruce and Patti Maxwell of MB Family Foods and Rick Solchenberger of Goldring Gulf Distributing at Five Sisters Blues Cafe in Historic Belmont DeVilliers!  Be sure to check out the fab photos on SipSavorTalk on Facebook and like us, too!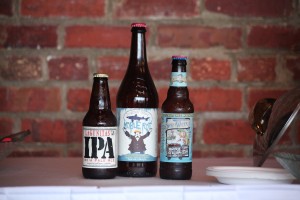 Here's the beer list we enjoyed:
Lagunitas IPA (India Pale Ale) 
Dogfish Head Noble Rot
Sweetwater Road Trip
And to top it off, Doc and Patti made some crazy-GREAT Caribbean Party Dip, Island Chili and Jamaican Jerk Chicken.  You can even savor them at home by trying the recipes with their award-winning sauces on their website at MB Family Foods.  Enjoy!
Wow! Thanks to our great friends – old and new – who shared the first SipSavorTalk at Five Sisters Blues Café on April 20. Thanks to Raymond Forte with Southern Wines and Spirits, we went on a journey around the world from the west coast of North America to the southern coast of Europe and the southern coast of South America.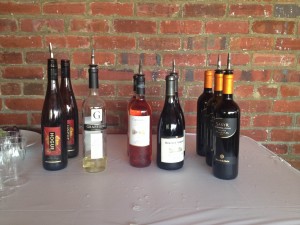 Here's the wine list we enjoyed:
Hogue Riesling 2013 (Columbia Valley, Washington
Graffigna Centenario Reserve Pinot Grigio 2013 (San Juan, Argentina)
Santa Cristina Cipresseto Rosato Toscana 2013 (Tuscany, Italy)
Rocca delle Macie Sasyr Sangiovese-Syrah Toscana 2011 (Tuscany, Italy)
Rodney Strong Estate Vineyards Russian River Valley Pinot Noir 2013 (Russian River, California)
Don't miss the Get Your SipSavorTalk Tickets! It's soooo much fun, crazy fabulous, and really cool.  And that's just the first 10 minutes (it's uphill from there!).  We can't wait to meet you on the patio.  Plus, we can't do it without you.  Well, we can, but that's illegal in some countries.